The Digital Meter Adapter is a expansion module for adding digital functions to Analog Geiger Counters that have a pulse output. If you're geiger counter outputs a ttl pulse for every radioactive particle it detects, your Geiger counter will connect to Images SI Inc.'s DMAD Digital Meter Adapter.

The DMAD has three functionalities to enhance the capabilities of Analog Geiger Counters. It counts pulse from analog geiger counter and convert reading into radiation level. Both count data and radiation level is displayed on the LCD display. Has a serial output that is compatible with Images USB-TTL cable interface. The serial output and USB cable may be used with Images SI Inc.'s free radiation monitoring and graphing software. Another function of the DMAD is a true Random Number Generator.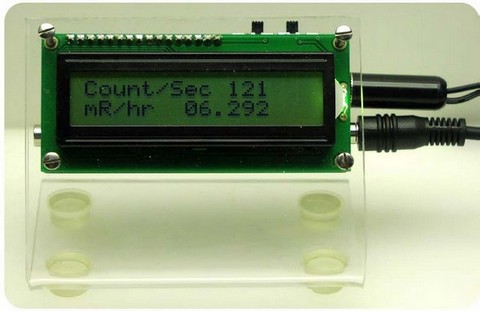 DMAD module shown with optional acrylic stand


Images Radiation Monitoring and Graphing program shown below is compatible with the DMAD when used in conjuction our USB-TTL Cable adapter and suitable analog Geiger counter.