What is Red Light Therapy?



About thirty years ago, studies show NASA first applied the medical technique called low-level laser therapy (LLLT), also known as red light therapy, for biological use [1]. The technology, originally called HEALS(High Emissivity Aluminiferous Luminescent Substrate) was found to successfully reduce painful side effects with far red/near infrared Light Emitting Diodes. In a two year trial study, improvement showed in cancer patients and those receiving stem cell and bone marrow transpants. NASA concluded that the treatment device could improve pain by 96%, had no adverse affects, and was easily tolerated [2].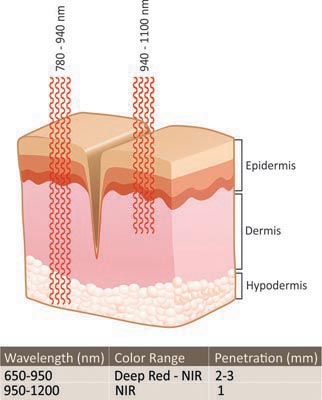 Figure 1. Wavelengths penetrating skin in various color ranges

Red light therapy uses light emitting diodes (LEDs) to stimulate healing within the human body [3,4]. Several researchers and studies have shown that red light therapy effectively stimulates the body at the tissue, molecular, and cellular levels [4]. Red light therapy devices used today can use up to two or three wavelengths [5]. The most promising effects have been found utilizing a wavelength of 660NM for RLT and the 850NM wavelength with Near Infrared, also known as infrared A (IR-A)[6].


Red light therapy goes by other names such as: [5]
LLLT (low level laser or low level light therapy)
LILT (low intensity light therapy)
Photobiostimulation
Biostimulation (BIOS)
Photobiomodulation (PMB)
Photonic Stimulation
Photorejuvenation
---

Disclaimer

The information on this website is not intended to diagnose, treat, cure, or prevent disease. The product being sold is a low-risk device for general wellness and fitness, with individual results varying. Consult your primary healthcare provider as the statements on this site have not been evaluated by the FDA.