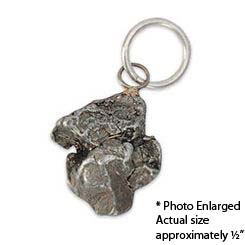 Campo Del Cielo Meteorite Pendant
Campo del Cielo refers to the area where a group of iron meteorites were found northwest of Buenos Aires, Argentina. The crater field covers an area of 60 square kilometers and contains at least 26 large craters estimated to be more than 5000 years old. First documented by the early Spanish explorers in 1576 Campo del Cielo is aptly translated "Field of the Sky".
These incredible pendants were crafted from that legendary iron of Campo del Cielo. You can own your very own little piece of geological history with this attractive pendant. Each one has a unique shape and appearance, giving you a one-of-a-kind pendant.
Country: Argentina
Found: 1576
Group: Iron
Type: Octahedrite, coarse
Class: IA, with silicate inclusions
Total known weight: ~50,000 kg

MR-04 - $29.95
Meteorite Pendant

Black Leather Cording Sold Separately. 
CORD-01 - $3.95
24" Black Leather Cord