Egg Holder
The egg holders are constructed from a number of small components; two shaped urethane pads, one round HiTec servomotor horn, one wood disk, spring, small and larger plastic black cups, see figure 13.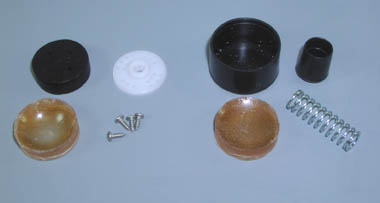 Figure 13
The urethane pads are NOT identical. One pad is shaped for the larger end of the egg and the other for the smaller end. You can dry fit an egg into each pad to check which end the pad is for. As you construct your Sphere-Bot™, you need to know which end is which.
The wood disk is attached to the round servomotor horn using two small #2 sheet metal screws. The urethane cup holder glued to the wooden disk using epoxy, see figure 15. This is attached to the egg rotating servomotor horn.
Figure 14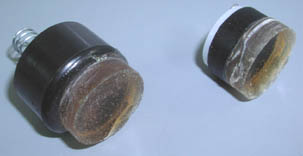 Figure 15
Figure 14 shows the components for the spring backed egg holder. A small amount of epoxy is mixed and placed inside the black plastic cups. The smaller plastic cup is embedded into the epoxy of the larger cup and the spring is embedded into the epoxy of the smaller cup. Keep everything center until the epoxy hardens. Glue the second urethane egg pad to the base of the larger plastic cup. When loading Sphere-Bot™ with an egg, the spring on this end is placed over the ¼-20 bolt on the back plate. The tension from the egg, will keep the egg holder assembly snug against the bolt, see figure 16.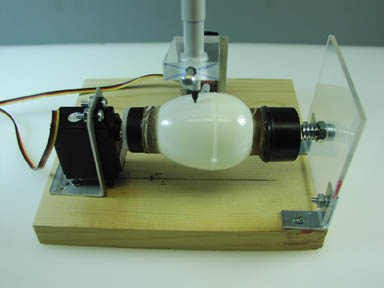 Figure 16