Stepper Motors Index
For info on our latest products, experiments and sales, connect with us:
Stepper Motor Controller IC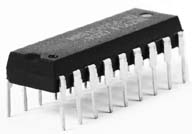 USMC-01
Stepper Motor chip generates control signals that can be used with for both Unipolar & Bipolar Stepper Motors with appropriate drivers like the L298 & L293.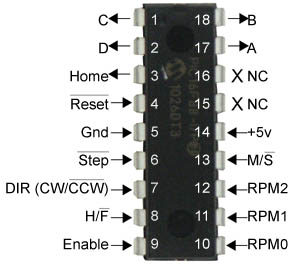 Features:
· General / Hobby Purpose Stepper Motor Controller.
· Compatible with 4 Phase Unipolar / 2 Phase Bipolar Motors.
· Master / Slave mode - Standalone Free Running Mode.
· 8 RPM Selections in Free Running Mode.
· Compatible w/ Drivers - L298, L293, Discrete Transistors.
· Half / Full Wave: Step Modes, Direction Control, Enable.
· Power On Reset initializes controller
More Information
DataSheets: Manual Application Sheet Waveform


USMC-01 - $9.95
Stepper Motor Controller Controller IC

USB Stepper Motor Controller Kit
This kit allows one to control a uni-polar stepper motor from Windows (comes with 12 volt Stepper Motor). The exclusive Windows interface is designed to teach fundamental stepper motor control. Automatic & manual control of the stepper motor is available through the Windows interface. Windows controls available are speed, direction full step, half step, and manual step. The controller is capable of operating motors from 5 Volts to 24 volts.
ST-USB-CTRL - $69.95
Windows USB Stepper Motor Controller Kit

12V Stepper Motor
Fuji Electrochemical Co. P/N ST-04 is a unipolar 7.5 deg/step motor (six wires). Features include 50/100 s/rev, 12 V, 70 Ohm coil. These new motors are 1.65" (42mm) in diameter by 0.57" (14.5mm) thick. The shaft is 0.12" (3mm) in diameter by 0.39" (10mm) long. It has a 1.65" (42mm) square mounting bracket with 4 .01" (3.5mm) holes 1.38" (35mm) apart. There are six approximately 19" long leads wires that come out of this motor from two side by side holes, one hole has three wires, a red, a brown, and a black wire, and the other has 3 wires, a red, an orange, and a yellow.
ST-03 - $10.00
12V Stepper Motor

Stepper Motor Control Information
| | | | | | |
| --- | --- | --- | --- | --- | --- |
| | | | | | |
| 1 | | | | | + |
| 2 | | | | | + |
| 3 | | | | | + |
| 4 | | | | | + |
| 5 | | | | | + |