Flexinol® Wire - Cut to Length and Precrimped

Ring terminals crimps

(see diagram below).
There is a $125.00 setup fee with each crimping order. When calculating your assembly costs remember to add the cost of the Flexinol wire used (see wire price list here). Note: Crimps are not sold separately.
Ring Terminal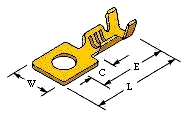 Dimensions W = .156
>L = .375
E = .290
C = .109
Insul. Size = .035 - .065
Stud Size / Diameter = .094
Stock Thk. = .012
Material and Finish = Brass
To place an order for pre-crimped Flexinol® wire call 718.966.3694