PIC Microcontroller Programmers
Programmers upload program HEX files generated by compilers into the PIC microcontrollers for execution.
USB Epic Programmer with Accessories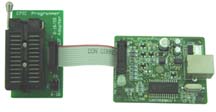 Our latest PIC Programmer is driven and powered from a single USB port on your computer. No additional AC power adapter is needed. The programmer is recognized by Windows as an HID (Human Interface Device) rather than a virtual serial port, simplifying driver installation.

The programmer consists of two parts. The programmer board is specifically designed for In-Circuit Serial Programming (ICSP). An adapter is included to allow the programming of DIP-packaged PICs from 8 to 40 pins. The programmer is compatible with the complete line of Programming Adapters. This allows you to program almost any ICSP-capable PIC in almost any package. The new design is small and compact. The programmer board measures only 1.5" x 2.3". A dual color LED indicates programmer status. The connection to the computer is via a standard USB cable (Type-A male to Type-B male).

Included in the USB Programmer package:
melabs USB Programmer
ZIF Adapter for 8 through 20-pin, DIP packaged PICs
melabs Programmer Software
6-foot USB Cable
Addition information on the USB Programmer.
EPIC-USB - $119.95
USB EPIC Programmer
USB-Cable - $6.95
USB Cable