PIC LED Kit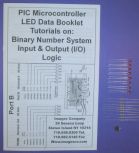 Tutorial on binary number system, logic and I/O of ports A & B. (8) 470 ohm resistors, (1) 10K ohm resitor, (8) subminature LED, (1) push button switch, booklet.

PIC-LED-01 - $9.95
Without standard parts package
PIC-LED-02 - $29.95
With standard parts package
Motion Control Servomotor Contoller SMC-04
Images Company's SMC-04-USB and SMC-04-USB-A Servo motor Controllers allow Manual & PC control of four hobby servo motors (Hitec/Futaba).


Servomotors may be controlled manually, via on-board switches, or by a Windows program through a serial communication port (RS232) on a Windows 98/XP PC.
Universal three position headers make it easy to connect servomotors--just plug them into the board.


SMC-04-v2K - $95.31
(unassembled)
SMC-04-v2A - $134.85
(assembled)

ACA-6VDC - $19.95
AC Adapter
ACA-5VDC-10A $49.95
Servomotor Controller Switching Power Supply
PIC Servo Motor Controller Kit

Tutorial on servo motors. (2) 42 oz. torque servo motors, (2) SPDT switches, (4) 10K, 1/4W resistors, (2) 3 pin headers, booklet.

Click here to see manual.
PIC-SERVO-01 - $41.95
Without std. parts package
PIC-SERVO-02 - $59.95
With std. parts package
Digital Meter Adapter
The New Digital Meter Adapter is now a universal expansion module. It is a combination of the original Digital Meter Adapter, RS 232 interface adapter & Random Number Generator Adapter. The new DMAD has all three functionalities in one module to enhance the capabilities of Geiger Counters.

This Digital Adapter plugs into the digital out of the analog geiger counters and provides an RS-232 computer output for use with Images Company Geiger Counter Graphing program.

DMAD-03 - $59.95
Digital Meter Adapter Kit (Kit Requires Assembly)
DMAD-03A - $89.95
Digital Meter Adapter (Assembled and Tested)
*Requires Analog Geiger Counter GCK-01, GCK-02 or GCA-03 series
Acrylic Stand - $10.95