Speech Controlled Robotic Arm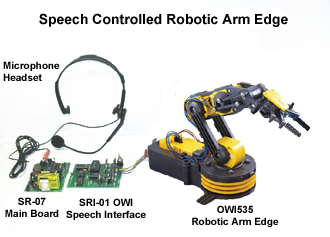 The SCRA-02 incorporates three kits; the OWI 535 Robotic Arm, SR-06 Speech Recognition Circuit and the SRI-01 OWI speech interface circuit. By connecting these kits together you create a powerful speech control system capable of controlling the OWI-Robotic Arm Trainer using voice commands.

The SR-06 speech recognition circuit allows you to train any word(s) in any laguage to control the robotic arm.

You can purchase the kits seperately and build your system slowly or purchase them bundled together. Kits may be purchased needing assembly or assembled and tested. See prices below.





SCRA-02 $280.58 (Kit; Requires Assembly)
SCRA-02A $474.95 (Assembled & Tested)


SRI-01 Speech Recognition Interface for Robotic Arm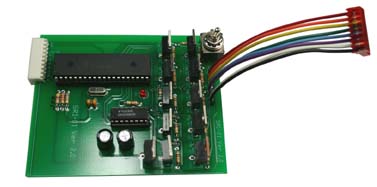 The SRI-01 connects the Speech Recognition Kit (SR-06 or SR-07) to the OWI-535 Robotic Arm. This allows control of the robotic arm functions using voice commands. Each function is controlled by a spoken word. The user trains the speech recognition circuit to recognize their voice and commands. Users may select their own words to control robotic arm function.