Etched Lightning™
Branching High Voltage Electrical Discharge Creates One-of-a-Kind Artwork Of Elegant Bonsai Style Zen Patterns Burned and Captured Into Wood.


Signed by Artist John Iovine -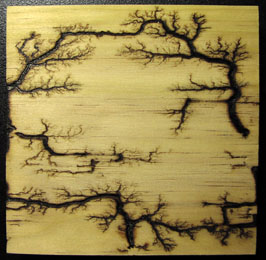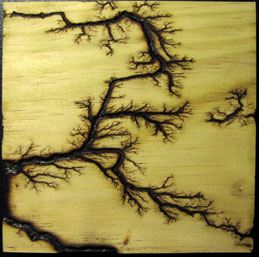 EVERY PIECE IS UNIQUE. Each electrical discharge pattern burned into the wood is unique. No two pieces are exactly the same.
ETCHED LIGHTNING. The branching electrical discharge patterns have been described as many things, including Zen like patterns, Bonsai Trees, Fractal patterns, Lichtenberg figures.
EASY TO DISPLAY. The wood is 4" x 4" square, anywhere between 1/2" to 3/4" thick. Making it easy to fasten a wall hanging or picture handing clip to the backside for easy display.
GREAT GIFT. This is a perfect gift for the technical and science inclined person
UNFINISHED WOOD. The product is left in its raw wood condition making it easy to color stain the wood or seal it with varnish.

Introducing a new, high quality electrical wood etching: A unique piece of art characterized by abstract Lichtenberg fractal patterns of unparalleled finesse & sublime beauty. An exquisite piece of art that's created using a high voltage electrical discharge. Each piece is unique, no two pieces are exactly alike. Adds a fabulous statement to your home or office. The uniqueness of this highly detailed wood etching is something that you will not find at your local store.

If you want an amazing, unique piece of artwork that empathizes technical and scientific inclination, this will fill your needs.

Product Description:
Etched Lghtning is 4" x 4" x 1/2" to 3/4" thick decorative wood block that has an branching electrical discharge captured into its grain. Each piece is a one-of-a-kind artwork we call "etched lightning." Our process uses a high voltage electrical discharge that creates an elegant Lichtenberg pattern that burns itself into the wood. Customers have described the etched designs as zen like and fractal like patterns, still others see a bonsai trees and zen gardens. Perfect gift for the technical and science inclined person.
Etched Lightning
4" x 4" Wood Panel - $19.95