If you are not automatically redirected from this page click here
Piezoelectric Film Sensors
Piezoelectric Film Technical Manual (PDF)
Piezoelectric Film: PZ-01/-02/-03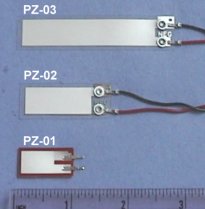 The piezo film element produces more than 10 millivolts per microstrain, about 60 dB higher than the voltage output of a foil strain gage. The capacitance is proportional to the area and inversely proportional to the thickness of the element.

Theses sensors are the simplest form of piezo film sensors, used primarily as dynamic strain gauges and contact microphones for vibration or impact detection. They can be readily adhered to a surface with double-sided tape or epoxy.

The PZ-01 comes without any leads for those applications where the application suits a custom lead attachment. Lead attachment can be achieved by compressive clamping, crimps, eyelets, conductive epoxy or low temperature solders. The PZ-02 and PZ-03 have wires attached to the film with rivets.

The elements are supplied with a thin urethane coating over the active sensor area; the lead attachment legs are free of the insulating urethane coating.

The capacitance is proportional to the area and inversely proportional to the thickness of the element.
PZ-01 - $3.15
Piezoelectric Film 13mm X 24mm X .2mm
(.51" X .95" X .008")
PZ-02 - $11.75
Piezoelectric Film 6mm X 41mm X .2mm
(.63" X 1.6" X .008")
PZ-03 - $13.80
Piezoelectric Film 16mm X 73mm X .2mm
(.63" X 2.9" X .008")
Piezoelectric Switches

Piezo electric switches have many applications (pinball machines, acceleration detectors, vibration sensors, etc). Therefore standard piezo-electric momentary pulse switches are manufactured and available. These switches provide clean pulses. By tapping on the end cantilever of the PZ-05, a digital pulse is generated. The PZ-05-R has the reverse effect -- a pulse is generated by a pulling force. These swiches may be incorporated into impact sensors, counting circuits and bidirectional encoding applications.
PZ-05 and PZ-05-R Piezo-Switch Features:
Greater than 10 million switch cycles
Impervious to moisture, dust and smoke
Digital Output
Low Profile
Maintenance Free
Click here for more information.
PZ-05 - $25.45
Piezoelectric Switch
PZ-05R - $25.45
Piezoelectric Switch - Reverse action
Piezoelectric Film
The PZ-08/09 is a low-cost cantilever-type vibration sensor loaded by a mass to offer high sensitivity at low frequencies. Pins are designed for easy installation and are solderable. Horizontal and vertical mounting options are offered. The active sensor area is shielded for improved RFI/EMI rejection. Rugged, flexible PVDF sensing element withstands high shock overload. Sensor has excellent linearity and dynamic range, and may be used for detecting either continuous vibration or impacts.
Features:
High voltage sensitivity (1 V/g)
Up to 40 Hz (2,400 rpm) operation below resonance
Over 5 V/g at resonance
Horizontal or vertical mounting
Shielded construction
Solderable pins, PCB mounting
Low cost
1% Linearity
Typical Properties (at 25 °C)
| | | |
| --- | --- | --- |
| Parameter | Value | Units |
| Voltage Sensitivity (open-circuit, baseline) | 1.1 | V/g |
| Charge Sensitivity (baseline) | 260 | pC/g |
| Resonance Frequency | 75 | Hz |
| Voltage Sensitivity (open-circuit, at resonance) | 6 | V/g |
| Upper Limiting Frequency (+3 dB) | 42 | Hz |
| Linearity | +/-1 | % |
| Capacitance | 244 | pF |
| Dissipation Factor | 0.018 | (none) |
| Inertial Mass | 0.3 | gram |
Environmental Specifications
Storage Temperature-40 to +80 deg C Operating Temperature -20 to +60 deg C WeightMinisense 100V: 0.5 gram
Minisense 100V: 0.6 gram
PZ-08 - $5.25
Piezo Film: 6mm X 12.8mm X .2mm
(.236" X .504" X .008")
(horizontal PC mount)
PZ-09 - $5.25
Piezo Film: 6mm X 12.8mm X .2mm
(.236" X .504" X .008")
(vertical PC mount)