Have your student commemorate their promotion by having their broken board turned into
a displayable work of art by our electrical etching process.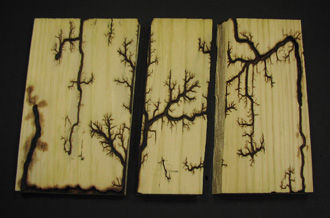 No two pieces are exactly alike.
Perfect for display on desk or wall.
Introducing a new, high quality electrical wood etching. A unique piece of art characterized by abstract Lichtenberg fractal patterns of unparalleled finesse and sublime beauty. An exquisite piece of art that's created using electrical discharge for your home or office. Each piece is unique, no two pieces are exactly alike.
Etched Lightning pieces have a branching electrical discharge captured into their grain. Customers have described the etched designs as Zen-like and fractal-like patterns, still others see a bonsai trees and Zen gardens.
Buy Our Pre-Etched Boards or Send Us Your Broken Promotion Boards for Post Etching
Post Etching Process
STEP 1: Promotion board before student promotion.

STEP 2: Promotion board after student promotion.

STEP 3: Promotion board is clamped together then etched.

STEP 4: Board can be displayed showing break
Or held together using transparent mending plate.
Displaying Your Etched Promotion Board
| | |
| --- | --- |
| | |
| Wall display using mending plate or picture hanger | Desk display using desk stand |
| | |
| Desk Stand | Picture Hangers |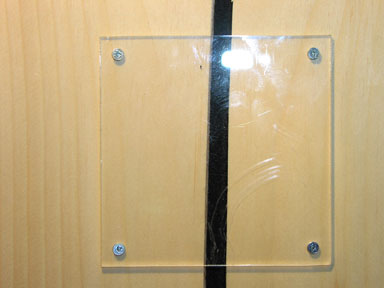 Mending plate is a transparent piece of plastic with four screws
to secure the wood pieces together or apart for display
Instructions For Submitting Promotion Boards For Post-Etching
Care must be taken to secure the broken boards together with the students name.
Images recommends placing each student board(s) in a 2-gallon zip lock bag with a piece of paper with the student's name.
The etched board will be returned in the same zip lock bag with the student's name.
The zip-lock bags are re-useable, and prevents the wood pieces from getting mixed up.
Images will not mix and match promotion boards marked with students names.
They must be packed cleanly and properly. Images retains the right to return boards that are improperly packed unetched.
Post Etching Cost $29.95 each.
Post Etching of Promotional Boards $29.95 each
---
PLEASE READ THIS -- Electrical Etching Disclaimer

Electrically etching wood is a random process that creates one-of-a-kind Lichtenberg figure. This etching service is provided as is without any guarantees or warranty. In association with the wood etching service or Images SI Inc. makes no warranties of any kind or either express or implied or including but not limited to warranties of merchantability or fitness for a particular purpose. Submission of wood boards for etching process and use of the resulting wood product by a user, customer or studio is at the user's, customer's or studio's risk. The customer/studio agrees that the etching process is random and as such the results may not always be to the customer's satisfaction. In no event will Images SI Inc be liable for any direct, indirect, incidental, punitive, consequential damages whatsoever.