The back plate is made from 3" x 3" x 1/8" thick acrylic plastic. The back plate is held to the platform with two ½" brackets. Mount ½" brackets on the platform using two #4 x ¾" length wood screws. Position plastic back plate up against the brackets to mark the hole located. Drill holes in back plate and mount the plastic back plate to the brackets using two 6-32 machine screws and nuts, see figure 3.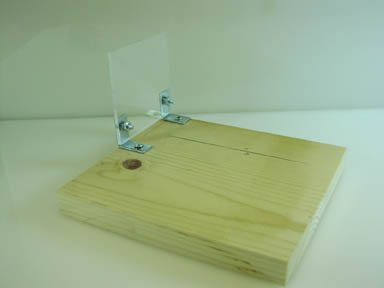 Figure 3

Next mount a Hi-Tech servomotor inside a servomotor bracket; using 6-32 machine screws, nuts and #6 split lock washers. Position the bracketed servomotor in front of the plastic back plate as shown in figure 4. Mark the center of the servomotor shaft on the plastic back plate, see figure 5. Remove the back plate from the brackets and drill a ¼" hole at the servomotor shaft position you just marked. Remount the plastic back plate to the brackets. Mount ¼-20 x ¾" length machine screw and hex nut to the ¼" hole in the back plate and check alignment with the servomotor, see figure 6.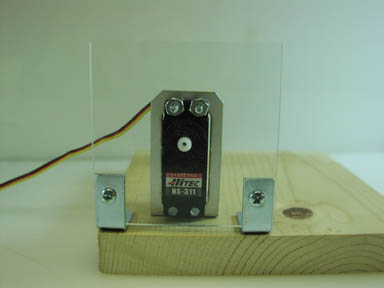 Figure 4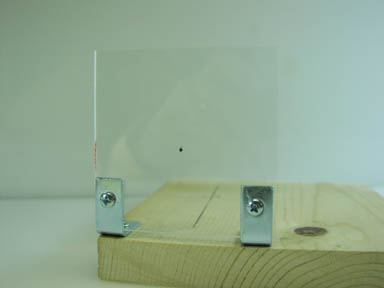 Figure 5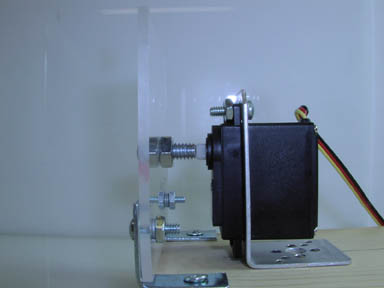 Figure 6

This alignment will help keep egg rotating parallel. Once this alignment is checked remove the servomotor from the servomotor bracket.