Geiger Bot is a companion app for Geiger counters, providing you with a toolkit for recording, analyzing, and sharing Geiger counter data.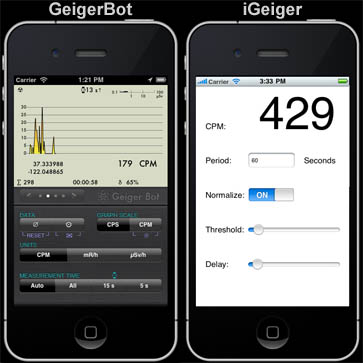 Whether you need a numeric display for an old analog counter, graphing and extensive logging for even a digital counter, or online automated data sharing via Pachube, Geiger Bot can be of use.

Geiger Bot just works. As soon as you start up the app, Geiger Bot will get to work without any configuration necessary. This is done using adaptive signal processing and your device's microphone input. Geiger Bot also supports a direct line-in connection via the headset jack.

Geigerbot is a free iPhone app. For more info, or to download click here.
iGeiger is a ratemeter program. It uses the microphone to detect the clicks from your geiger counter (or other device) and display the Counts Per Minute (CPM).

The measurement period can be set between 1 and 3600 seconds, and readings can be optionally normalized to one minute (60 seconds). The displayed value is grayed out until an entire measurement period's worth of readings has been accumulated.

The minimum required volume of a click to be detected (threshold) can be set, as well as a delay time between clicks.

iGeiger is an iPhone app. For more info, or to download click here.
Cable-G-APP - $19.95
Adapter Cable to interface Images SI Inc. Geiger Counters with geiger apps

Coming Soon