The Analog Digital radiation meter counts the pulse output of a standard analog Geiger counter. It provides a visual readout of the CPS, approximate radiation level (imperial/metric) and analog radiation field strength meter.

Features:
8-12VDC or 5VDC power supply input
Counts TTL pulses from Analog Geiger Counter
Outputs Digital Counts Per Second (CPS) value
Outputs radiation level (imperial / metric)
LCD Backlight
Available as a kit or assembled
The Analog Digital meter alternates the first line of its display between Counts Per Second (CPS) and then approximate radiation level in either imperial measurements (mR/hr) or metric measurements (mSv/hr). The top line of the display alternates its display every second. The 2nd LCD line is a analog radiation field strength meter that provides a quick visual indication of the current CPS reading.

To fit nicely on the 8 character display line the imperial measurement of mR/hr is abbreviated to mR. Likewise the meteric measurement of mSv/hr is abbreviated to mS.
The second line of the 8x2 LCD is a dedicated analog power meter to read a reasonable approximation of CPS from 1 CPS to 2040 CPS.
Click here to see mounting outline measurements.

ADM-01A - $64.55 Assembled and tested
ADM-01K - $45.55 Kit requires assembly


Faceplate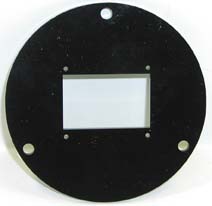 This faceplate mounts the ADM meter above into the round panel opening of a CDV715 meter. Material is approximately 1/8" thick black plastic.