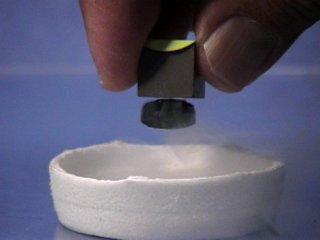 In 1988, Palmer Peters (NASA) announced an unpredicted suspension effect of superconductors (see Figure 2). Peters was experimenting with a ceramic superconductor doped with silver oxide. When Peters lifted a magnet out of a dish filled with liquid nitrogen, he noticed a small piece of superconductor that was in the dish was missing. He found that piece of superconductor floating below the magnet.




To perform this experiment one needs the S3 kit. This kit contains a superconductor that has been doped (adding a small amount of an impurity) with a small amount of silver metal.

The impurities in the superconductor permit a greater than normal amount of magnetic flux lines from a rare earth magnet to permeated the superconductor inside the regions where the impurity (silver metal) exists in the superconductor's matrix.The flux lines are pinned in these regions being surrounded by superconductor material. Figure 3 shows a schematic of the Suspension Effect.