Meissner Effect and Flux Pinning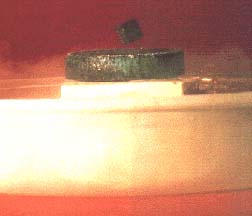 The classic experiment of floating a rare earth magnet above a superconductor is pretty interesting. This shows that the superconductor is diamagnetic. Repels a magnetic field as stated before. Have you wondered why the magnet doesn't just flip off the superconductor? After all, the magnet's magnetic field is begin repelled. Why does the magnet stay levitating above the superconductor? Well, the answer lies in flux pinning.
Flux pinning occurs in tiny defects in the crystalline structure of the superconducting material. Imagine the magnetic field around the magnet like lines of force. The superconductor repels the majority of the magnetic force lines, which support and levitate the magnet. A smaller portion of the lines of force become trapped in the defects in the superconductor matrix, and are held in place. These trapped lines of force (flux pinning) are the reason the magnet doesn't slide fall off the superconductor.