PIC Experimenter's Board

PIC Experimenter's Board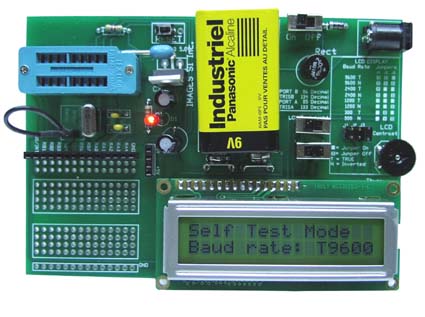 Features:
16 x 2 charactor high-contrast backlit LCD supertwist display
Xtal oscillator socket (4MHz xtal supplied)
Regulated 5-volt power supply
Reset circuit:
Complete Plug-In Proto-typing Area
Size: 5.0" L x 3.5" W
See the PIC Experimenter's Board Datasheet for more information.

The PIC Experimenter's Board is a complete prototyping platform for the 16F8X, 16C55X, 16C62X, 16C7X and 16C8X family of 18-pin PIC microcontrollers.

ZIF 18 PIN socket allows easy insertion and removal of microcontroller IC.

Has solderless connections for quick and easy access to all Port A (RA0-RA4) and Port B (RB0-RB7) I/O lines, +5 volts and GND. Its 168-point connection area allows for quick and prototyping.

It includes an integrated 16x2 serial backlit LCD display, which can be easily connected with one wire to any I/O line, or external serial source. Serial communication with LCD can take place at 300, 1200, 2400 and 9600 Baud (True or Inverted).


PICX-01 $119.95