Kirlian High Voltage Power Supply Kit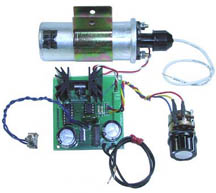 Universal high voltage power supply kit. This HV power source may be used in a variety of different high voltage applications, like:

kirlian photography

HeNe Laser tube power supply

x-ray tubes

plasma tubes

negative ion generators, etc.

Features variable frequency using a potentiometer. Also has a High-Low frequency range switch.

In addition this circuit to be either be battery powered 9-15 VDC, or powered from a wall transformer also 9-15V with either an AC or DC output.

When powered from batteries provides the advantage of portability for fieldwork.
HVPS-01 - $84.95
HV Power Supply

High Voltage Plasma Generator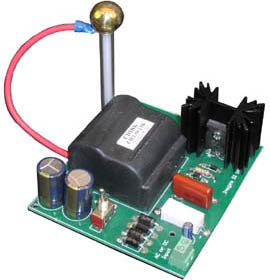 Generates 0.25" sparks to handheld screwdriver
Light fluorescent tubes without wires
Build your own Plasma Balls
Generates up to 15kV @ 22 KHz from solid state circuit
Solid state high voltage power supply is perfect for high voltage experiments, like Kirlian photography. The high voltage at the terminal won't electrocute you, so its relatively safe, but it can burn you, so use caution. Can be run from 12 VDC 500 mA.
Manual (PDF)
PG13 - $64.95
Plasma Generator Kit
ACA-12VDC-MWW - $9.95
12 VAC Output Power Adapter