NRC Calibration Certification
Why NRC Certification is Important!
When accuracy is important, so is a US government regulated NRC certification for accuracy. While many Geiger counter manufacturers claim high accuracy for their Geiger counter, it simply is not true. It is not enough to say an instrument is calibrated, nor is it enough to say the Geiger counter has an accuracy of 1%, 5%, 10%, or 20% because anyone can say that! Without a legitimate reference to compare accuracy too, a claim of accuracy means nothing.

Fortunately the United States Government has a license standard for Geiger Counter accuracy. This is a Nuclear Regulatory Commission (NRC) certification for accuracy. NRC certification can only be performed by a nuclear laboratory licensed by the United States Government to perform such certifications. Without this certification, you can not be sure of any claim that a Geiger Counter accuracy is valid. Below in the slider is a picture of an NRC certification label for one of our Digital Geiger Counters. After NRC certification, a certification label is attached to the Geiger counter and this certification is valid for one full year.

If a seller states their Geiger Counter is accurate, ask, "Is your Geiger Counter NRC certified?" If not, their Geiger counter probably can not pass NRC certification. But many times a seller will hedge and state that the NRC certification is expensive and is not "currently" offered as an option. Ask, "If I purchase your model and send the unit out for NRC certification will it pass? And if it fails NRC, can I return the Geiger Counter for a full refund?" The seller's answer will tell you what you need to know to make a sound purchasing decision.

* All digital Geiger counters sold by Images SI Inc. can be NRC certified to their accuracy. The new standard in radiation measurement.


GCA-07W Digital Geiger Counter

The only digital Geiger counter in its price range accurate enough for NRC certification.
We don't just say our Geiger counters are accurate, we can certify it!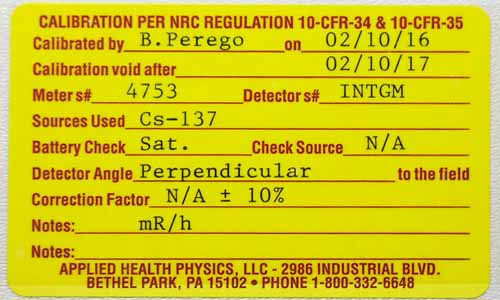 Images Digital Geiger Counters have been NRC certified accurate by an independent lab licensed by the U.S. government. A photo of the certification is provided below. Calibration is per NRC Regulation 10-CFR-34 and 10-CFR-35. Certifications are good for one year.
Certifications are available for an additional $125.00. See Details Below.
NRC accuracy percentage on the certification may vary from Geiger counter to Geiger counter. All of our Digital Geiger Counters are highly accurate, but when you certify your Digital Geiger counter through Images SI Inc. we guarantee it.
Certification requires an extra 2-3 weeks to process your order. This time is necessary to send and receive your Digital Geiger counter to our laboratory for certification of calibration. Once your certification order is in process to our lab, cancellations have a 50% restocking fee, on the both the Geiger Counter and certification fee.
When you receive your certified Digital Geiger Counter it will have a serial number and a calibration sticker on the back, see photograph below
See a sample certification sheet here.
Images SI Inc.
Staten Island, New York, 10312
718.966.3694 Tel
718.966.3695 Fax